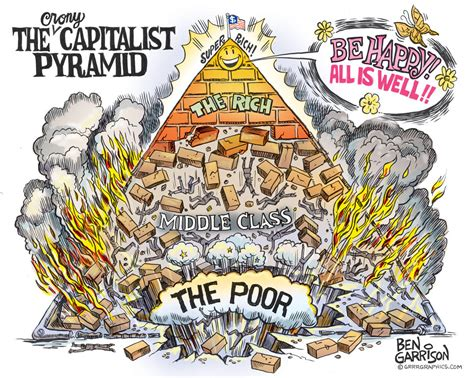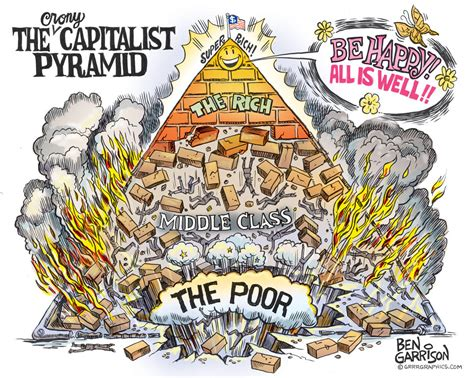 China's Crony Capitalism: The Dynamics of Regime Decay — Minxin Pei, Harvard University Press, 2016, ISBN: 96064738296.
The movement for democracy in China, which began in 1989, brought the country's ruling Communist Party to the brink of collapse. According to official documents, on May 18 of that year, 6 million people took part in simultaneous protests in 132 cities in China. The Communist Party suppressed the protests in Tiananmen Square by force. Leaders at all levels were then allowed to loot state property. To restore loyalty among the party's future leaders. In response to the world's largest democratic movement. The greatest looting opportunity in history was created. Then crony capitalism or looting capitalism began.
Economists thinking about it :
According to The Economist, crony capitalism is the arrangement by which capitalists obtain valuable resources from politicians. To put it more broadly, it is an arrangement between the bourgeoisie and the politicians, through which the bourgeoisie acquires wealth legally or otherwise and the politicians retain power. In other words, on the one hand, China's economic growth has been slow, on the other hand, after 1990, such widespread corruption began there.
Minxin Pei., a professor of political science at McKenna College in Claremont, California, paints a detailed picture of China's looting system in his book Crony Capitalism, but in very restrained language. Reading the book, one can understand the level of corruption in China. Minxin Pei has shown that although party leaders have established control over state resources, China has never officially privatized them. Although there has been a decentralization of control over state resources, the issue of ownership has not been clarified. Now, those who rule have the opportunity to acquire the resources of society. In China, the line between ownership and control is drawn. And where ownership is uncertain, control is the key — Minxin Pei.
China's Crony Capitalism: The Dynamics of Regime Decay
Minxin Pei wrote the book through extremely difficult research and data collection. There is no fabrication in it. Behind every word, he presented a huge piece of evidence. The book has 365 pages, the main part is up to 268 pages, and the remaining 90 pages contain appendices, abbreviations, annotations, acknowledgments, and schedules. The author tells us that while the concept of crony capitalism is already very popular, to research this, the people of academia have to face at least two difficult challenges.
The first challenge is to create a kind of analytical framework that incorporates the essence of crony capitalism and applies it to empirical research. He proposed an idea entitled 'Compromise between the elites'.. The rationale is that no matter what type of political party is in power, this is the case in all cases. Secondly, it is difficult to get data on this subject, because it was born in the 1990s. The government of any other country usually does not want to investigate this matter.
Minxin Pei said that theoretically and in practice, such conspiratorial corruption is more destructive than personal corruption. Because it destroys the organizational and constitutional form of the country. For example, if 45 or 50 officers and employees of an office take bribe, it does not have institutional character. People also have no way without bribe. However, if 10 people in that office had taken bribe, the problem would not have been so deep.
The most notable thing that Minxin Pei told us is that the looting of this group did not happen as a byproduct of rapid economic growth. Moreover, it happened as a result of the strategic decision of the Communist Party of the country. The author has very nicely shown how corruption is happening at every level of the party. And the way Xi Jinping has launched his anti-corruption campaign will not only reduce corruption but will also create divisions among the ruling elite and accelerate the fall of the party. Although there is public opinion against corruption.
Crony capitalism in Action:
In the chapter entitled 'Cronyism in Action: Collision between Officials and Businessmen', Minxin P shows, in a one-party system, the nexus between the political elite and the businessmen is very clear. If there is political power here, it can quickly turn into a huge asset. However, without a partner in the private sector, this relation will not change. They have to pay a fee to do politics for life, and that is their investment.
There is also the risk of leaving political office. The party leaders are afraid of getting angry. They put their relatives in that place as they cannot go to the private sector themselves. As a result, they can be in a big position in the party, as well as gain huge wealth. Even though, there are more opportunities to get caught. The amount of wealth made is more profitable than the loss of capture.
The longer the corruption lasts, the more likely it is that the officials concerned will be promoted. It took an average of eight years for those officials to be arrested after corruption began. Of the top 50 corrupt people in this category, 42 have been promoted during the term. In other words, in the long run, this high rate of promotion of officials concerned (84 percent) indicates that marked corruption is much lower.
China's achievements vs crony capitalism:
However, China's achievements are not less. Their economy is now number one in the world. Now they are competing with the United States. They are trying to create an alternative institution to the World Bank and the IMF. On the other hand, China's poverty reduction has played a significant role in reducing the number of poor people in the world today.
According to the World Bank, from 1991 to 2000, the number of poor people living below one dollar a day in the world decreased by 274 million. According to Xi Jinping at the 19th Congress of the Communist Party of China, 60 million people in China have risen above the poverty line in the past five years. This poverty alleviation effort will continue till no more people in China are below the poverty line.
China is a surprise
China is a surprise in terms of economic progress. After the reform program began in 1978 under Deng Xiaoping, its average growth rate until 2002 was 8.1 percent. The fact is that in 2005 China's real per capita GDP increased eight times more than in 1980. Due to this rapid economic growth, rural poverty is also declining rapidly.
Infrastructure, social services, and the living environment of the poor, has significantly improved. But at the same time, there is a lot of distribution inequality as a result of this crony capitalism. In China, more than five and a half billion people still live below the poverty line. Their per capita daily consumption is less than one US dollar. And according to a survey by the Huron Research Institute, the three richest people in China each own 3 trillion in assets. China also has a wide range of regional development gaps. Yet this country claims to be socialist, where the main feature of socialism is the gradual end of all forms of inequality.
The root cause of China's unimaginable progress is globalization, as we all know. After the reforms, they gradually produced factories all over the world. All made possible by massive investment in education, training, and technology. China has invested heavily in human resource development, the results of which they are now reaping. They have made considerable progress in production and trade. They produce all kinds of products from the lowest to the highest. We have a lot to learn from this process.
The difference between China and liberal democracies is that there is no balance of power. The structure of the country's government is such that it is not possible to pull the strings of corruption. Corruption is most prevalent in land resource development, mining, and state resource restructuring. Corrupt officials collude with high and low ranking officials. Every province has been attacked for its greed. Some areas have turned into mafia states.
To decentralize administrative power, local-level party leaders have the right to 'allocate capital, give big contracts, and determine land use'. As control loosens, they can use that power for personal gain. Where widespread competition exist. And, property rights are well-defined. Little corruption exist. Especially in consumer goods or high-tech manufacturers.
At a glance, some more information on China's anti-corruption in the last five years:
[A] The Disciplinary Examination Commission and the supervising agencies have investigated 20 lakh 7 thousand cases of breach of discipline. They have filed 15 lakh 50 thousand cases and taken disciplinary action against 15 lakh 30 thousand party members. In addition, they have handed over 58,000-suspected officers to the judicial authorities. [B] Of the top 100 fugitives on Interpol's Red Notice, 48 have been arrested. Moreover, 3,453 fugitives have returned to China. [C] During the election of new leadership in cities, towns, and villages. 9,300 officers failed to pass the observation test and were not promoted. [D] As per the promotion and demotion rules, the position of 22,000 officers at the village level and above has changed. [E] The party's organizational and human resources department has warned and reprimanded officials over more than six lakh allegations. [F] 25 thousand officials have been punished for not submitting proper reports on personal matters. Including family and property issues related to the exercise of their powers.
(Source: China Daily, October 20, 2016).
However, the prospect of a democratic balance in China is unlikely soon. Incumbent President Xi Jinping further consolidated his power at the 19th Congress of the Communist Party of China in October 2017. Many of his rivals are no longer in the field. Most of them imprisoned. Many arrested on corruption charges. In one of his essays, Minxin Pei says that Xi now has unbridled power in his hands. However, Xi Jinping has embarked on a massive campaign to make China a great modern socialist country by 2050.
Minxin Pei grew up in Shanghai in the 1980s in the days of Chinese hope. Now there are not dribs and drabs of hope in him: 'Even if the old system is overthrown in a revolutionary manner, liberal democracy will not come. Because of the remnants of this crony capitalism … those who have made huge sums of money will have a political impact on the new democratic system, where the chances of survival are slim. "
His fear, is what will happen if the one-party system is overthrown. Like in Russia and Ukraine. However, the Chinese system was on the verge of collapsing in 1989. However, whatever it is, it is not socialism.
We are sorry that this post was not useful for you!
Let us improve this post!
Tell us how we can improve this post?
Add to favorites