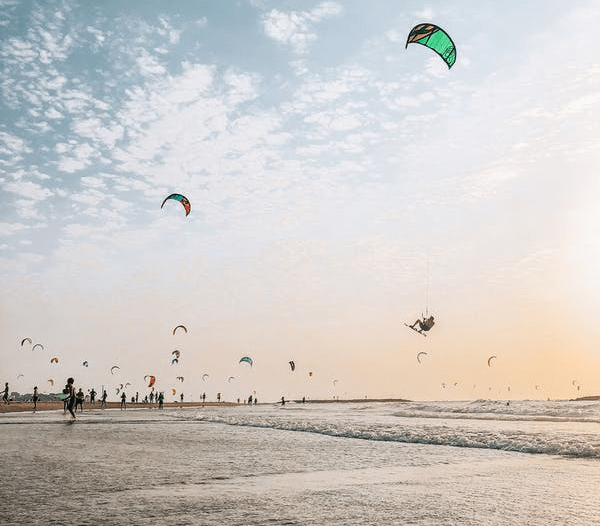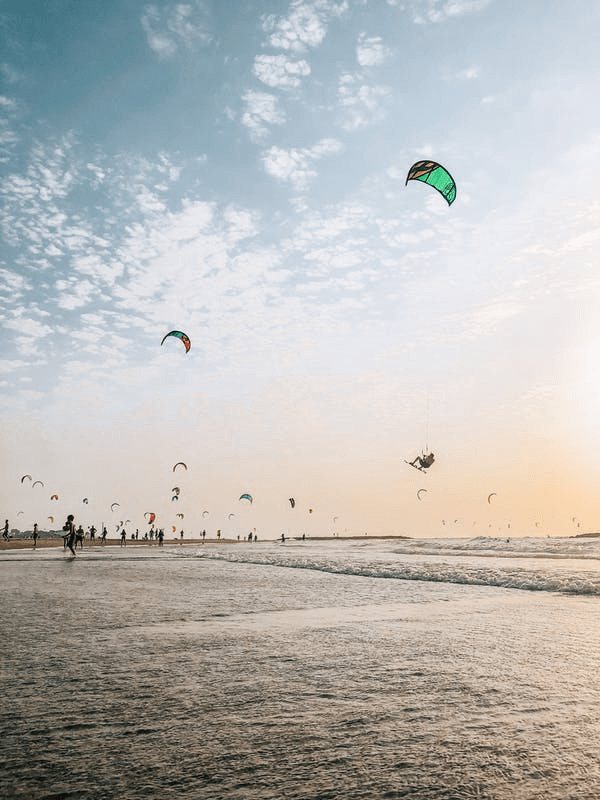 What is Kite?
Kite Flying Sports
Power-kiting
Kite-surfing
Kite Buggying
Kite Land Boarding
Snow-kiting
Kite Sports are good for you.
The Danger of Kite Sports
The Kite is a device with wing surfaces that can fly and react against the air to create drag and lift forces. Kite flying sports are a fun adventure around the world. The practice of kite flying has been in many countries for thousands of years. While kite flying is very entertaining. Some countries use them as a cultural symbol and canvases for artistic expression, technology and war. These instruments of science are an extreme sport for serious hobbyists. There is a close relationship between kite flying sports and human beings for a long time.
What is Kite?
Kite is a collection of tether-coupled wing sets. Build light can fly in the sky. By pulling an attached string. Made of thin twigs of bamboo with thin paper. It is lighter than any kind of aircraft that remains tethered to an anchor point which helps to move or static.
Kite Flying Sports
Getting a kite to stay in the air can be a challenge in itself and forget about getting it to do any kind of tricks. The purpose of it is to create and allow forms of kite flying to develop into a sport. Here will be discuss special kite sports, power-kiting, kite-surfing, kite buggying, kite land-boarding and snow-kiting.
Power Kiting
The goals of those who fly sport kites are very much passionate about Power kites. There are a lot of differences in kites; we already learn that from this article. So, people who love to fly kites as a sport, always choose a sport category kite or stunt kite. Stunt kites are maneuverable. This type of kite is also controllable and used for recreation. But if you want to be capable of generating a significant amount of pull and want to use it for providing movement then a special kite is waiting for you and that is Power Kite. They provide significant pull. Come in large sizes. Commonly known as Traction kites.
There are three types of Sports kites.
Traditional Sport Kites, Trick Kites and Quad Line Kites.
There are a lot of varieties of forms on canopy. So, it is very easy for users to select the control system as their needs and choices. Most of the people who love to fly power kites love to take them to the beach as a place of fun. The reason behind it is that people love to skid along the sand, perform jumps and jump off sand dunes. Even you can fly it in a relaxed mode. Just fly in a formation around the sky that you enjoy. Simple!
Kite-surfing
Kite-surfing has to be one of the best adventure and travel sports of all time. It may be an incredible vehicle for you. It depends if you want to know and experience the world and find places that you would never experience any other way. What's nice about kiting is that anybody can do it. All you need is the wind and you just go where the wind wants to take you. There are some people who love to go kite surfing as just meditation.
Kite-boarding is like a massive combination of different sports. Anything can happen here at any time. It may go wrong or bad and that is finding that line between pure adrenaline stoke high to another dimension and just getting the beating of life. Kite-boarding will introduce you to a new fraternity. All the top riders know one another because they are all in this sport together. They continuously work on new developments in this kite-boarding sport.
Kite-surfing is one of the fastest growing kite sports for the past five years. It is safer and easier to learn than other kite-sports. Maintaining disciplines is one of the main draws of kite-surfing. Kite-surfing contains many elements. One of the fastest growing aspects of kite-surfing is racing. Racing events follow the same format to Olympic Sailing. Enthusiast hope for its adoption by the Olympics.
Kite Buggying
Buggying has been around in fact for thousands of years in human history, although it is now in a slightly different form than it is today! A three wheeled vehicle without a motor. This purpose-built light buggy has two fixed rear wheels and one steerable front wheel and has a single seat. Kite buggying is a kind of activity where the driver sits in the middle of the vehicle and accelerates and slows down by applying steering maneuvers in coordination with flying maneuvers of the kite.
Skilled drivers can range up to around 110 km/h (70 mph). Safety protective gear required.
Know more about types of adventure and adventurous sports
Photo: Kite Buggy
Kite Buggy History
Photo: Charvolant – Kite Drawn Buggy
Invented in China around the 13th century. George Pocock, an inventor and the founder of tent method-ism promulgated this particular buggy in the UK in 1827. In the early 1990s, high quality buggies started coming in the market with strong body, lightweight and affordable price. Land yachting, wind-surfing are similar to kite buggying.
How does kite buggy work?
Power or traction kite? The pilot of the buggy has to control the traction kite by using a harness and strop line and drive the buggy. It does not have a dedicated braking system. A traction kite accelerates the buggy and helps to assist in braking.  
Buggy Jumping
Kite buggying is one of the extreme sports in kite sports. Buggy jumping is the extreme manifestation of this sport. For buggy jumping, the pilot has to use the wind power to fly a slightly larger kite because it is the only power source to fly it.
Physically attached to buggy with a lap belt. The pilot must fly the kite overhead to generate maximum lift and then try to hoist the buggy, a minimum of ten feet from land into the air. Special trained pilots can perform aerial maneuvers such as sidewinders, pendulum swings; 360 degree spins and reverse landings. 
Kite Land-Boarding
Photo: Kite Land-boarding
Kite land boarding is the dry land version of kite-surfing. The kite land boarding uses four wheels along with the mountain board. You can carve and slash the grass or sand just like you would in water when kite-surfing. The best place of kite land-boarding is large open areas. The wind must be constant with no obstructions. As an example a large hard-packed sandy beach. Kite land boarding is one of the top land kite sports in recent years.
Snow-kiting
Snow-kiting is exactly how it sounds, kiting on the snow. It is an outdoor winter sport. People use kite power to glide on snow or ice. Snow-kiting is similar to water based kite-boarding and kite-surfing. The principles of kite sports are the same. The difference is in the terrain. There are also some differences between snow-kiting and alpine sports. A snow kiter can maneuver and travel up and downhill with any wind direction. Snow-kiting is becoming popular like skiing in Canada, Iceland, Russia, Switzerland, Norway, Austria, Finland, Sweden and the Northern and Central United States.
Photo: Snow-kiting
In 2015, Snow-kiting enthusiasts from around the world gathered on the icy mountain plains of Hardangervidda, Norway. They took part in the world's largest snow-kite race: Red Bull Ragnarok. With variable winds and some seriously icy conditions, only four of the 300 kiters we're able to complete the course in full, making it the toughest competition to date.
Kite Sport is good for you.
Kite sports are for everyone. Almost everyone can start kite-boarding or any other kite sports. There's few limitation to start kite-boarding. All you need to do is be confident at swimming where needed.
Since all of these kite sports are extreme sports like other sports, it will offer a phenomenal exercise for your body and mind. These sports help you to burn your calories. Kite-boarding has other important benefits besides burning calories.
Photo: Kite Championship
1. Healthy Heart
Kite-boarding combines resistance and aerobics exercises, toning your figure and gaining physical strength and perfect for keeping a balanced weight. All together it helps to keep your heart healthy.
2. Tones the Body
Kite-boarding helps to tone the body especially arms, abdomen and the upper area of the body. You feel the strengthening in your arms by holding the kite and controlling it. And, in the legs bending over the board while riding and muscles in the hands from grabbing the bar.
3. Increase Coordination and Concentration
You have to keep focused on several tasks. Fly the kite in the air with one hand while you enter the water grabbing the board with the other hand. Kite-boarding increases your multitasking skills.
4. Stress Relief
All kinds of sports will help you to get rid of stress. Kite-boarding as an extreme sport, causes adrenaline rushes. These create a great feeling of wellness that remove stress quickly. Your immune system will improve by boosting endorphins and reducing stress levels.
5. Community and Networking
By practicing kite-surfing you are going to become a part of a unique community of people that want to share the same activities. It helps you to interact with people with common tastes and interests. It will also improve your relationships and ability to communicate.
6. New Experiences and Sensations
Kite-boarding allows people to experience new sensations, like the feeling of flying, increasing your level of happiness.
Danger of Kite Sports
You might hear kite-boarding connected with these two words "Dangerous and Extreme". This is because when people hear about kite-boarding in general, most of the time it is something extreme or some accident that might have happen. That is how you hear it on TV or most likely online. Some research papers say how dangerous kite-boarding is! Kite-boarding is as exciting a sport as football and hockey. It's not that frightening. There are some potential hazards for kite boarders.
Photo : Accidents of Kite Surfing
1. Hazards from Operator Errors
Be over or under-powered can cause you to lose control of your kite. Dragged out to sea by the wind. Ending up in an area with big rocks. Or in strong currents. Stuck in an obstacle. You may hurt yourself while jumping. Or failing a launch or landing. Caught in running kite lines may create an unexpected accident.
2. Weather and Nautical Hazards
Chance of this kind of hazard is low. Sudden wind change can happen and it picks up strongly due to a storm it can drop you and your kite into the sea. Sometimes you may fall into a wave zone with large sets coming in. Escape the impact zone fast enough. Or, wash out with your kite dropping.
3. Equipment Failure Hazards
Second-hand gear of kite flying sports that's too old can cause dangerous conditions for kite-boarders. Your harness spreader bar or a line may break while you are far away from the shore. Always check out the equipment you are about to use beforehand.
4. Hazards Due to Obstacles
Blown into an inland obstacle. Or dragged into an obstacle in the water. Avoid colliding with other kite surfer or a swimmer with your lines.
5. Health Hazards
Hypothermia can occur by having too much fun in the water. Too much kite-surfing can give you cramps when riding. Remember to take sun protection like glasses and sun block in advance,
Modern kiting equipment is very easy and safe to use, when you know how. Kites can develop enormous amounts of power. When handled incorrectly, it can be dangerous. In a short period of time anyone can learn to safely fly a kite, celebrate and luxuriate in invigorating outdoor experiences of kite flying sports.
There are facilities and instructors where coaches give instruction to disabled people at every level of the sports. Try to enroll in a course with qualified instructor who can educate a new flier on safety systems. They securely and efficiently teach kite-surfing, snow-kiting or land-kiting.
Many kite flying sports associations and clubs founded to nurture safe growth to these exciting activities. Some countries, just like the UK, Spain and Germany have very active and competitive national championships for juniors, amateurs and pros.
We are sorry that this post was not useful for you!
Let us improve this post!
Tell us how we can improve this post?
Add to favorites