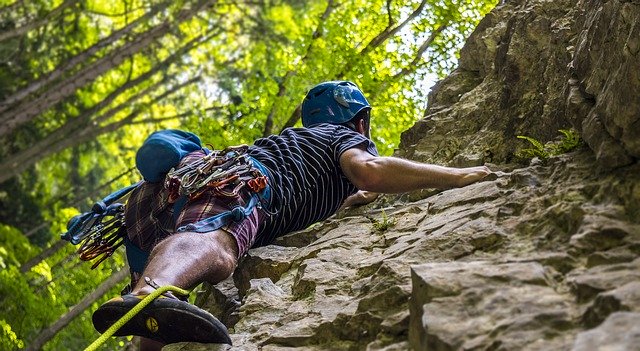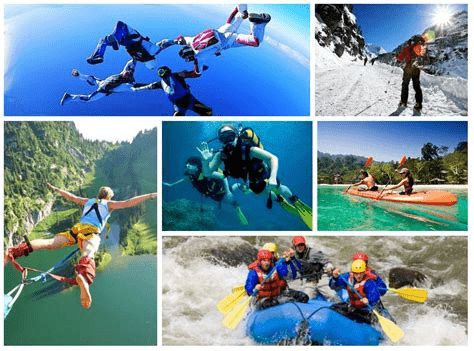 Adventure refers to the usual dangerous activities outside of the ordinary. Adventure is a thrilling, venturesome, seemingly unusual, perilous adventuresome exploration. Any activity of an adventurous or daring person that is not organized by seemingly normal people is therefore an adventure. There are different types of adventurous sports based on different criteria.
These activities or adventurous sports include speed, height, high physical ability, use of special equipment, and attractive physical style. One does not compete with others on an adventure. He competes with the adversity of the environment, with himself. These are the adversities of weather and space, such as wind, snow, water, jungle, desert, mountains, etc., the competition is organized by nature.
Adventures sports are organized using the maximum of human ability, the endurance of hardships in uncontrolled environmental conditions. In that sense, an adventurer competes with nature, as well as with his abilities.
Adventure sports are simultaneously a combination of dangerous, risky, and uncertain experiences. It causes physical and psychological tension. This stimulation releases a hormone called 'adrenaline' from the body and creates a feeling of well-being. As a result, a pleasant feeling and attraction grow in the mind of the adventurer. That is why adventure activities attract people, especially the younger generation. While adventure is considered to be an attractive activity for the youths and has a large number of them interested in it. But adventurous sports are popular among people of all ages.
Adventure sports are also a choice for entertainment with excitement. Self-confidence, in addition to fully appreciating one's abilities, much physical knowledge is often acquired in national adventure activities, especially adventure expeditions.
Competitive experience of adventure sports are useful for acquiring education and knowledge in various benefits of life. So while adventure sports are described as unusual experiences or excitement, they are especially instructive and useful in the field.
Types of adventurous sports:
There are different types of adventurous sports. Doing any normal work in a slightly different way can become an adventure. Besides, there are only adventure activities.
1. Wilderness adventures
Wilderness is not a luxury but a necessity of the human spirit, and as vital to our lives as water and good bread. (Edward Abbey-renowned author)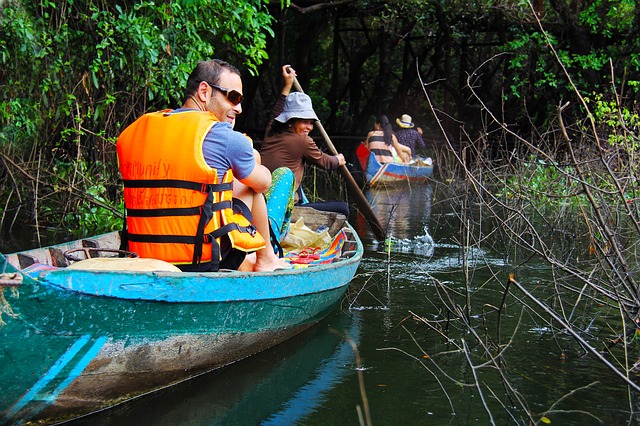 Adventures that have to be organized in the jungle or woodland-centric are therefore known as wilderness adventures. There are several types of experiencing something different in this category.
(A) Caving travel
Cave travelers visit natural mysterious caves as another adventurous sports . Scientists believe that there are still some caves in the world where human footprints have not yet been worn.
(B) Hunting
All wild birds that are hunted for food are called game birds. Wild in the sense that they are not domesticated is an adventurous Sports.
They are called game birds because hunting them is often considered a form of entertainment. Birds are hunted for food and entertainment in different parts of the world. Which birds can be hunted and which birds cannot be hunted depends on the availability, diversity, regional taste, weather, and hunting laws of the birds in that region.
Adventurers hunt wild birds.
(C) Archery
Historically, archery was originally invented to hunt animals and fight on the battlefield. Currently, it is a recreational game.
Adventurers mainly hunt animals with archery.
(D) Backpacking
According to the Urban Dictionary, "carrying a bag on one's shoulder and going out in search of a new experience, which is usually done by young people, but more or fewer people of all ages have been seen to take part in it."
So in a word, it can mean to go out on an adventure with a bag on your shoulder. In more detail, backpacking is a lifestyle, not just carrying a bag around your neck. People who do backpacking regularly, as human beings are more tolerant, mentally generous, willing to adapt to any situation, and always looking forward to experiencing something different. It's the best category in types of adventure.
Backpackers go out with very few things to see new people, new places, new countries, new cultures. They do not expect comfortable beds, where it is night, they find a little safe place and arrange to spend the night there. Most of the time they don't even have a special plan, stay somewhere for a while if you feel like it, or take a break and go back here and there, wherever his eyes go. The camp in five billion star hotels under the open sky, they watch the sunrise, they go to places where ordinary people can't even think of going, they see things that very few people in the world are lucky enough to see.
2. Water adventures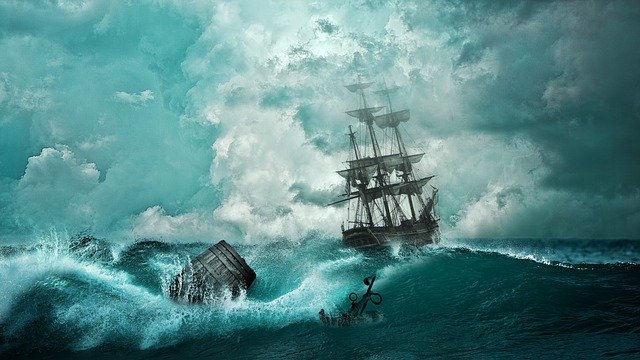 All the adventures that take place in water-centered. rivers, oceans, etc. are included in these types of adventure. These include-
(A) Rafting
Boating in a hostile environment is called rafting. Rafting is very popular with adventurers.
River rafting is quite risky, so physically disabled people should not do it.
(B) Kayaking
Kayaking is a fast boat made of fiberglass that can be operated with a scull. It is mainly played in competitive games on rivers, lakes, seas, or beaches.
Kayaking is becoming more and more popular in modern times.
(C) Scuba diving
Scuba diving is an exciting adventure under the sea. Scuba diving is a completely different kind of adventure that will take you to another unfamiliar world in this world.
As you may have seen astronauts floating in boundless space, scuba diving provides a similar feeling underwater. The most interesting or regrettable thing is that even though human knowledge about space is far away, the idea of ​​an underwater world on our earth is probably close to zero.
Being one of the most popular sayings about scuba diving;
"Lands are already discovered, space is too far, let's discover another universe underwater".
You are floating deep under the sea. Colorful fish are swimming by your side, Turtles are swimming, Jellyfish are floating, Starfish are lying on the rocks. The feeling is like reaching heaven.
3: Mountain Adventures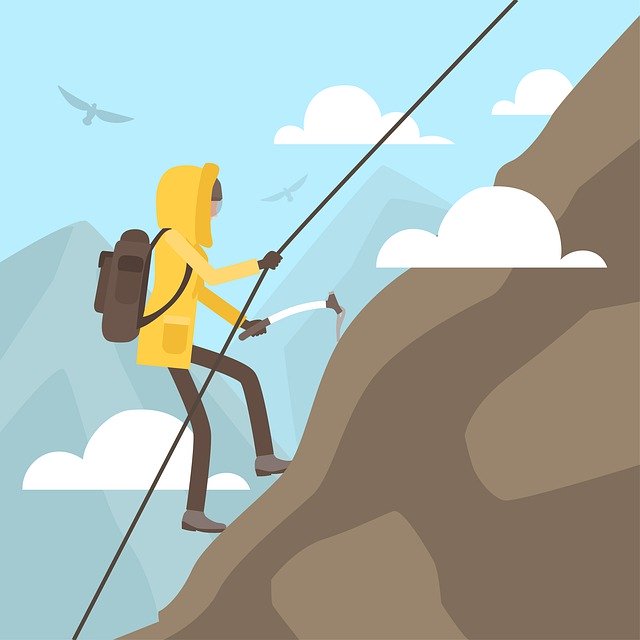 Mountain adventures are part of these types of adventure. For example,
(A) Hiking
The word hiking means purposeful perambulation. Scouts will travel on foot to specific destinations following any route instructions. During the trip, you will observe the surrounding environment and nature along the way. Hiking specifically involves observing nature, drawing and constructing maps, tracking signs, setting and constructing compasses, making field books, conducting financial social surveys, cooking, campfire reporting, and other practical matters.
(B) Trekking
Many people do dangerous work to spend their time in excitements. One of them is dangerous trekking in the mountains.
(C) Mountaineering
Why do mountaineers go to the mountains?
Journalists have gathered at the town hall to accompany a great occasion. And a few days later a group of mountaineers will set out for Tibet; Mount Everest, the highest mountain in the world, with the mission of leaving human footprints for the first time. There were two attempts on Mount Everest in 1920 and 1922 but both failed to reach the summit. Everyone hopes that at least this time Everest will be in the hands of people.
When George Mallory, a mountaineer from England, entered the press conference, all eyes were on the 35-year-old young man with a slim body. One of the fighters on Mount Everest's mission is playing with confidence in his eyes. The reporters jumped in front of him to match their questions and Mallory continued to answer them in his spontaneous manner. At the very end, a journalist asked him, "Why do you want to climb Mount Everest?" What George Mallory said in reply is now part of history.
What did George Mallory say? "Because it is there!"
Jim Weekwar has been exploring the Himalayas for the past 40 years. Like all other mountaineers, he had to face death several times. On average, he lost one friend in every four expeditions. Yet the inexhaustible attraction of the mountains has repeatedly taken him to the high mountains of different parts of the world. In an intimate interview, he was asked exactly what was on the mountain which led him to return there repeatedly. What Jim says in reply can satisfy many curious minds.
"A lot is going on here," said Jim. Let me first explain the physical matter. When a person is very excited or under a lot of pressure, some chemical fluids called dopamine, adrenaline, and endorphins are released which affect the nervous system, act as analgesics, and spread a great euphoric feeling in the body-mind. As a result, once you fall in love with this feeling, it is not easy to get rid of it. The demand for this feeling is so strong that it can be matched with drug addiction. The extreme physical and mental stress of extreme sports like mountaineering gives a climber a euphoric pleasure which is why he wants to get this unique feeling again and again and so he comes back to the mountain again and again.
"Mountaineer Linda Givler gives a very interesting answer in this regard: "Those of us who climb mountains are in a worse condition than any drug addict. Mountain climbing addiction gives us a great feeling both physically and mentally that we repeatedly throw ourselves into mountain challenges. The joy we get from this challenge is unmatched anywhere else in the world."
Reinhold Messner gave a similar opinion. According to him, "endurance, fear, the bitter cold and being in the midst of life and death are such powerful experiences that we want to have them again and again; I became addicted to this feeling. Surprisingly, we want to escape death and return home safely from the mountains, but as soon as we return home, we become restless to return to that dangerous environment.
From the mountain thoughts of some of the best, we can conclude that the thrill of danger hidden in extreme sports, the thrill of physical and mental challenge, is the thrill that takes mountaineers to the mountains again and again.
Finally, I would like to mention the immortal quote of the famous Chinese wilderness adventures Kyle Oberman – "I want to show people that, at the same time as exploring nature, we – all of us – can also add conservation value".
We are sorry that this post was not useful for you!
Let us improve this post!
Tell us how we can improve this post?
Add to favorites