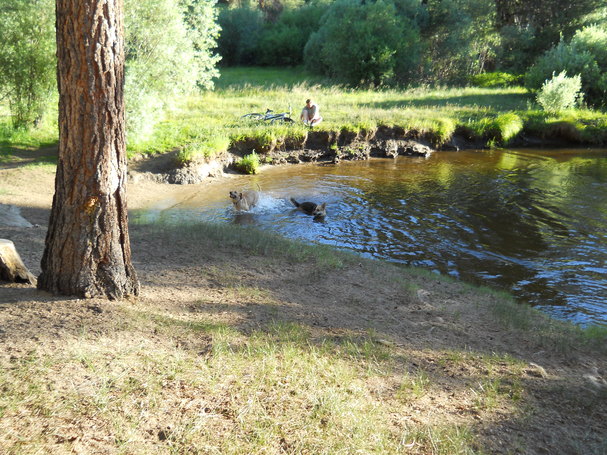 Mission statement: Question what's best, find one better!
Vision statement: Convert knowledge into wisdom.
Who we are? People searching for the truth.
Day Break – Emerald Bay at Eagle Falls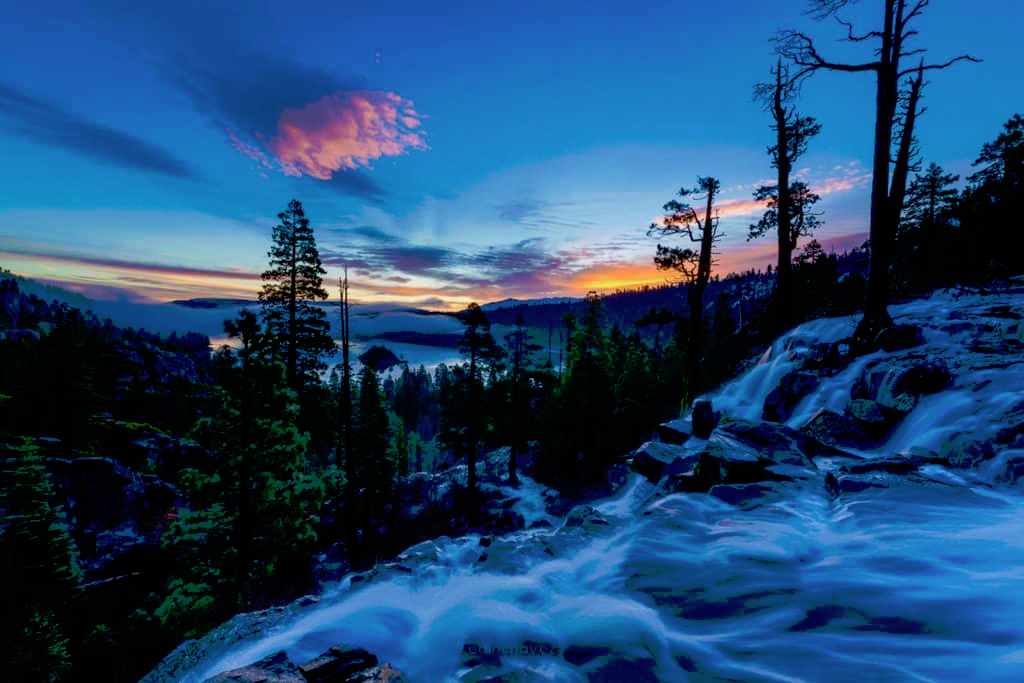 Why does are company exist? To find out what people want most.
What business are we in? Sharing the best known findings elevates suffering of mankind.
What values will guide us? Principles of human rights for all.
What will success look like? The best answers and solutions are freely given to those most capable of affecting change, solving problems and alleviate suffering by sharing the optimum course of action about all things relevant and important.
What we offer is rich factual and procedural advice, life planning, management and review. Find resolutions to problems, conflicts, tasks, dilemmas and decisions of life in human rights, environment, healthcare, business, economy and governments and hopefully have a few laughs along the way.
What is it?
What is wisdom vision?
Identifying people's condition and aspects to be changed focuses on creative wisdom vision, generates optimum development and guides a convergent establishment to improve quality of life and achieve happiness together. Humanity uses common sense. Knowledge comes, but wisdom lingers. The more extensive our knowledge, the greater is our power of knowing what we need to do. We unmask what appears to be the caprice of human destiny.
We find the where, the what, the when, the why, the how and the who. Imagination is the eye of the soul we examine. Talent is what we possess: genius is what possesses us.
We help businesses to innovate and compete and governments to reform. Also, we improve our lives by giving free research and development to businesses and governments that saves us money worldwide and makes life easier for consumers. We solve the mysteries of eternal understanding and make the common appear novel.
Our present to humanity is a presence. The more wisdom vision is shared the more our lives are enriched. Where ordinary people focus awareness and express their opinions that directly affect their lives. Where, the wisest solutions rise to the top of the wisdom vision ratings. Champion the best wisdom to enlightenment. The wise possess solutions they want to share.
Leonardo De Vinci said of insight "All our knowledge has it's origins in our perceptions." Knowledge always desires increase by propagating itself. Common focus and essentials are explained in detail by the wisest among us. Explore life's core issues locally, regionally nationally or universally and advance important people issues.
It's a social participation revolution, the last frontier… us. We are in harmony with our universe and at peace with the rest of the world we call happiness. We're forging consensus as companions in prosperity. We seek new areas to exploit, optimize existing and become the most important content provider on the web.
What is Wisdom?
Wealth of the wise, wisdom must compare; raise questions; suggest restraints and get us closer to the truth; provides a basis for making sound value judgments; necessary to get pleasure from health; satisfaction from fame; good use of wealth; intrinsically rewarding; supreme part of happiness and goals ends in happiness and universal truth.
The pursuit of wisdom brings with it the most intense perfect joy and continual cheerfulness. This aspect of wisdom is clearly the least understood. It is elusive but, something we all have, universal enlightenment.
Wisdom Related Processes:
Recognition of individuality
Recognition of context
Ability to interact effectively
Understanding change and growth
Attention to affect and cognition
Wisdom Interrelated Functions:
Solution of problems confronting
Advising others
Management of social institutions
Rich factual knowledge
Rich procedural knowledge
Uncertainty, the knowledge
Questions to meaning of life
Life planning, management, review and mistake avoidance
Relativism knowledge, differences in values, goals and priorities
Spiritual introspection
Wisdom Results:
Resolution of problems, task, crises, dilemmas and decisions of life
A Wise Person:
Uses common sense; has learned from experience; sees within the larger context; observant; perceptive and understands him or herself; is aware; is a source of good advice; comprehends; understands life; worth listening to; considers all options in a situation; thinks carefully before deciding; see and considers all points of view.
Wisdom in action gives positive results:
Justice
Prudence
Vigilance
Tact
Foresight
Sobriety
Fortitude
Temperance
Collective effort to advise others
Wisdom Traits:
Desirable traits of a wise person in order of importance:
Mentally healthy,
Thinks clearly,
Curious,
Proud,
Skeptical,
Conservative
Less desirable traits of a wise person in order of importance:
Materialistic,
Excitable,
Cautious,
Biased,
Forgetful,
Moody,
Bitter
What is vision?
Something seen in a dream;
A supernatural appearance that conveys a revelation;
The act or power of imagination;
Direct mystical awareness of the supernatural;
Unusual discern of foresight;
Power of seeing, envisioning
We were born to solve the problems of the universe within the limits of our comprehension. The word knowledge implies truth, proof and our comprehension. The word knowledge implies truth and proof of conviction. Learn what our parents and schools failed to teach us. This is an opportunity of a life time to change our lives for the better and find commonality.
Wisdom vision unites a community spirit that inspires humanity. We focus our wisdom to advance our visions. Together everything is to our advantage. We all have a home, it's between our ears. Put it to work and have it our way. We are living the miracle in a miracle place. Put us together and we rule. Wisdomvision is right where it wants to be or it wouldn't be here.
We convert our knowledge and visions into wisdom and encourage sharing gifts. We succeed by helping our establishment improve. Make a positive impact on all of society because people support what they help to create. Orient our energies to serve humanity as our guide to action.
Our philosophy involves everyone in wise development, which in some cases, may mean no development. We epitomize open source, infinite greatness is possible by helping our whole alleviate suffering and bring people out of oppression. We have our establishment absorb life's inconvenience instead of humanity.
Our exquisite knowledge is our greatest gift. Good deeds help us to understand the nature of our greatness. We are enlightenment without borders furthering the most important cause of all human enlightenment. Any person, business or organization can grow support for worthy concepts, products and services that help us all. Humanitarian and environmental causes receive universal support and popular belief in pursuit of wisdom vision.
To realize our mission we follow guiding principles that focus community conviction and channel communication between people and their institutions. We tune in and reveal what we need most and expand mental, emotional and spiritual horizons. Life improves; we learn together and generate optimum development. We focus wisdom vision on global systems that interact and grow our standards of living.
Current wisdom dictates free markets and competition works better than the rule from a few. The rule of law is better than anarchy. Human rights are basic rights. FDR's second bill of rights should suffice.
Principles of life encompass human condition, conduct, social norms and everyday understandings. We tend to the most important matters of life. We lead by example with what is most important to every community, individually and together we are the way the world community thinks! We identify universal values and areas of agreement. Every day we write the book of universal knowledge that enlightens.
How we innovate and inform the establishment makes our lives better. We control our destiny by participating in this new humanitarian endeavor. Our intuitions get their strength from us. Together we share our greatest gift… our wisdom vision. Collect with us our wisdom about the keys to a meaningful life, most important problems, questions, answers, goals, desires and vision.
Businesses utilize these new universal channels to develop user friendly products and services based on public wisdom, one that can only be given by people. The people and the establishment help one another. People test hypothetical products and services. Capitalist save research, development and start-up resources. Governments evolve faster because they get instant public sentiment. Consumers get safer, cheaper and produce more durable products, solutions and services.
Humanity holds the secrets to change. We look further into the most important knowledge, wisdom and vision. We collectively rate our most significant concerns, solve problems and find answers to our most important issues. We develop and disperse humanities richest content. We share good judgment and advice about important life matters. It's profound insight into human development and commentary on life's difficulties.
Everybody begins to understand the ultimate consequences and cause of our actions and learns keys to a meaningful life. We look deeper into the physical and mental limits. Examine our developments from the beginning through the future. Protect our civilization against cosmic inevitable events and help direct our conscious and subconscious mind to our universal mind.
This mission is a voyage into deep happiness. Where life is the way we wish it to be. What, will we wish for? Join us in a wonderful discovery of who we really are. Share our gifts in this cyber think tank where we collectively combine our wisdom, higher knowledge, goals, values and desires. Cultural diversity enhances the experience of life. Our differences are our strengths. A strong interface among all people helps preserve valuable resources and helps us to protect the environment against uncertain intelligence and misdirected wealth.
We affect change when leaders and governments see the wisdom and go along with the people's wishes. The faster they get it, the faster we get it. When we know change comes when we share our gifts. Our preferences help government and businesses to make decisions and adjustments. Our purpose is enabling us to embrace wisdom innovation and reap its rewards.
Life after Wisdom Vision
We find a divine harmony in a utopian paradise. The human race is wide awake, now! Sublime grandeur, what a world, Quantum problem solving and democracy have revolutionized people's lives. All the institutional barriers have come, tumbling down. One click on Quick Learner and it opens a library of human development and there, one learns life's most important virtues and obstacles to happiness. The establishment and all its institutions have an important new friend, humanity.
Mail: Wisdomvision LLC
P.O. Box 3707
Stateline, NV 89449-3707 USA
We are sorry that this post was not useful for you!
Let us improve this post!
Tell us how we can improve this post?