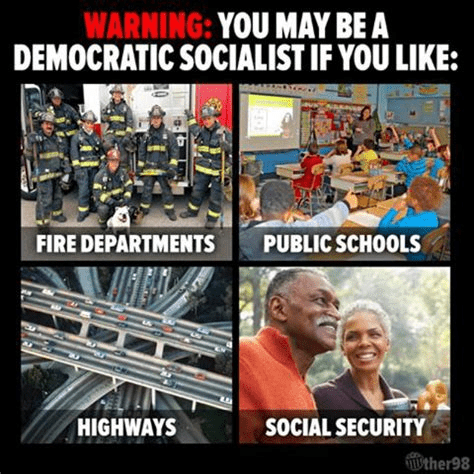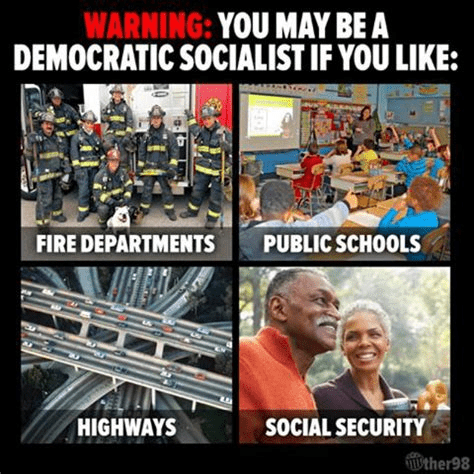 There are various types of economic systems that countries around the world use to run their governments. Capitalism and Socialism are two of the most common political, economic, and social systems amalgamated by the countries. The United States is often regarded as the prime example of a country whose economy is dictated by capitalism. But in practice, the United States is not a country strictly driven by capitalism. As the rage and distaste against capitalism are on the rise in America, especially among the youth, for many Americans the word "Socialism" means a system with poor work ethics, obstruction to innovation and entrepreneurship, and excessive control and regulation by the government.
This schism between the two has created a large divide between the populations. According to the Pew Research Center, more than one-third of the Americans have a negative view of capitalism and around 42% have a positive view of socialism. To find out what's behind these opinions first we have to know more about what capitalism and socialism are and how they affect the economy of America. 
Capitalism and Socialism are often classified as to be opposites of each other. Capitalism relies on the basis that the means of production or resources are owned by private individuals. Under a capitalist economy, the economy wheel is run by those individuals who own and operate private companies. Individuals who own the company make the necessary decisions over the use of resources.
In an imaginary world where society is run by perfect capitalism, companies that incorporate are treated by the same laws as individuals. They can perform anything that an individual can perform. Corporations can sue and can be sued also. Striving for the maximum profit, all the companies aim to become large and maximize their shareholder wealth. The government tries to ensure level playing field for private companies. The government applies rules and regulations depending on the potential for abuse in any sector.
Though the capitalism embraced by America has generated vast amounts of wealth for the country but it also has made it in a way that the majority of the wealth is in the hands of very few people and many have been left behind. The USA is considered one of the prime examples of a capitalist system where it is an economy that boasts healthy competition, efficient and optimal allocation of resources to designated industries, etc. But alas the reality tells something else. It took America almost 6 years to recover from the 2008 stock market crash and millions of people lost their jobs, properties, and their belongings.
America saw the rise of capitalism in the early 1900s with the massive growth of industrialization. Manufacturing and railroads took the forefront, leaving agriculture in its trails. The United States slowly became the most desirable place to go and do business along with new financial industries only increasing the wealth of a select group of people. This created an unequal distribution of wealth among the rich and the poor where the rich people get richer while the poor get poorer. Most of the lower working classwork with minimum wage and are sometimes seen doing multiple jobs just to cover their basic needs.
It is apparent that the health care system in the United States is built to benefit only the insurance and pharmaceutical industries, and while it cannot be denied that with the investments in the pharmaceutical industry have been responsible for the major advances in the medical field and treatment of diseases, not all of those benefits are easily accessed by all of the population due to the imposition of high prices by these industries and an absence of strong regulation by a strong government. There are not that many healthcare programs that help the people those in need of medical attention and only a few people usually get access to them.
More than 48% of the population that has medical coverage is only because they have a private health insurance plan. Most health care, even if publicly financed, is delivered privately. The sky-high costs of quality medical service make it inaccessible for the majority of the population. People in America buy their houses via mortgage loans. Sometimes the payments are so high that often people have look for loans just to clear the payments. Why socialism is hated by capitalists.
This in turn gives rise to the mortgage industry where the banks can and sometimes do foreclose the houses when someone fails to pay. The government provided programs often fail to assist those who are not wealthy enough to get their houses as the programs come with a lot of restrictions and many other complex requirements that ultimately end in taking debts.
In contrast with the capitalist system, the socialist system entrusts the responsibility of running the economy on the government instead of giving free reins to private companies or individuals. Under this system, "everyone works for wealth that is distributed to everyone", unlike capitalism where "where you work for your wealth." (Peavler). Both individual needs and greater social needs are taken into account by the socialist government.  Resources are allocated using central planning. Greater social needs include better transportation systems, education, healthcare, and others such as the preservation of natural resources.
Everyone in society receives a portion of the production based on how much everyone contributed. This motivates them to work for extended periods if they want to. Workers receive their share of production after a percentage has been deducted for the mass. The collective well-being of the community is valued more than individuals. The government distributes resources equally rather than giving more control to individuals which in turn gives more control to the government over the citizens.
Socialism may look like a perfect system on paper but it does have a lot of holes when it is in effect. Venezuela is a prime example of a failed socialist system. Socialism kills entrepreneurship and innovation. It undermines the people's initiatives and works ethics which makes the people heavily dependent on the government. A reason for why socialism is hated by capitalists.
Even with all the cons of socialism and having a strong economy, many young Americans are struggling to make ends meet and blaming it on the current capitalist system. That is because the salaries aren't enough to cover the basic need and necessities. A 2018 survey by Bankrate showed that over 40% of Americans have some kind of a secondary job. This number 51% amongst the millennials. On top of that, many of the young who are entering their professional lives are far less likely to earn more or equal that their parents earned.
Most of the young employees don't receive any kind of pension or post-employment benefits like their predecessors used to get. This is especially affecting them greatly as the healthcare and housing expenses are sky-high. According to Gallup, young citizens have more interest in socialism whereas older Americans have more faith in capitalism.  Of those between 30 and 49 years old, 58 percent have a positive view of capitalism and 41 percent have a positive view of socialism. Of those aged 50 to 64, 60 percent have a positive view of capitalism and 30 percent have a positive view of socialism.
The current economic situation is creating a mindset among the young Americans in which they are looking at socialism as a better system for them. According to Gallup, 'Whether the appeal of socialism to young adults is a standard function of idealism at that age that dissipates as one grows older, or will turn out to be a more permanent part of the political beliefs held by the cohort of millennials who have come of age over the past decade, remains to be seen.
Millennials have had their credibility of economic liberalism eroded by the formative years of adulthood.  The youths have had their faiths weakened in markets by the financial crisis and recession. Exposed deep levels of inequality and alerted many young people to the fact that their futures were likely to be far less bright than their parents' were at the same age and why socialism is hated by capitalists.
While the American economy is a capitalistic one, there are also certain elements of socialism in which the government acts to ensure the welfare of Americans. For example, the social security system is one of the primary ones that can be shed light upon. This system is responsible for making a payment to American workers after they retire. The payment they receive is taken from them when they were able to work.
Those who lose their job due to market disruptions or are unemployed receive unemployment benefits which are also provided to them by the tax money. Some many other benefits or payments are taken from the working class citizens as tax. Even with all these aspects, the economy is majorly a capitalistic one and the young Americans are looking for a change through implementing a socialistic economy. This is why Americans who are under 30 are preferring Bernie Sanders for his socialist beliefs.
Capitalism does have its flaws as no system is perfect. But there is no denying that America has reached where it is now because of capitalism. Capitalism ensures intellectual freedom and private entrepreneurship which in turn gives the people freedom of choice. The apparent equality theorized by socialism is very hard to achieve and many countries have failed throughout history. This is why many Americans are still looking at capitalism as the ideal economy system for the country and dismissing socialism as a solution to get rid of the current economic crisis. Whether socialism solves the issue is yet to be known as no strong candidate for socialism has yet to arrive in the white house to establish it. This is why socialism is hated by capitalists.
We are sorry that this post was not useful for you!
Let us improve this post!
Tell us how we can improve this post?
Add to favorites