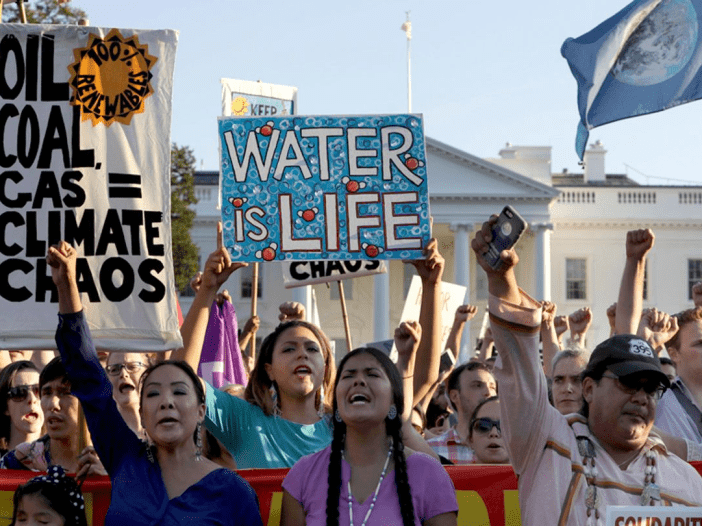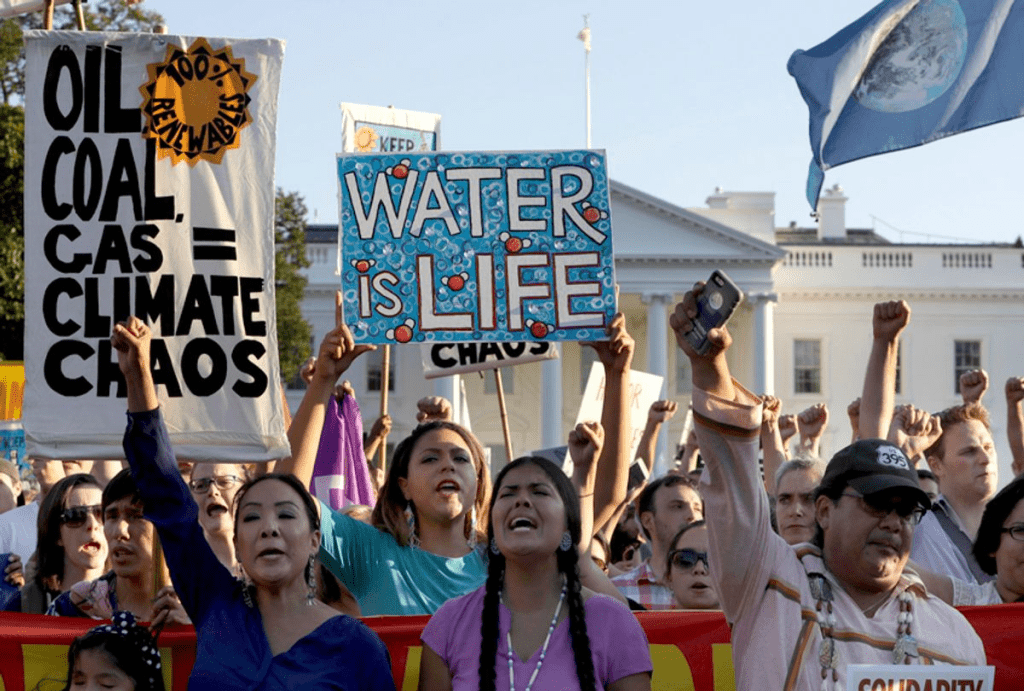 Table of Contents
Water Protectors – Who are they?
Water Protectors Action
Dakota Access Pipeline
Dakota Access Pipeline Protest
Line 3 Pipeline
Stop Line 3
Alton Gas
Honor the Earth
Water Protectors – Who are they?
Indigenous water protector, the name comes from Native Americans who are also known as Indigenous Americans and other terms. The main focus of water protectors is protecting and defending the world's water and water systems. They are actually activists, cultural workers and organizers. Most of the water protectors are female. Water protectors are quite different from other forms of environmentalists and activities because of their philosophy. The indigenous society has the perspective of culture and that sees the land and the water as sacred.

Water protectors assume that the reasons behind protection of water are older and more holistic. This activity is also integrated into a larger spiritual and cultural whole than in most modern forms of environmental activism. This activity is based on seeing water and other extractive resources as commodities. Water Walker Josephine Mandamin of the Anishinaabe explained that the water is not only a simple substance of this mother earth. It is associated with Mother Earth and spoke of the responsibility. The responsibility of grandmothers to lead their grandchildren or other women in praying for and protecting the water. She tried to raise the awareness and the peaceful action of her inspired many to join in water protectors events.

Photo: Water Protector
Water Protectors Action
Water protectors have been joined together to take action against construction of multiple oil pipelines. There are as well as other projects such as, fossil fuel industries and resource extraction activities which can lead to the contamination of water and the indigenous water protectors always stand against those projects. Water and land protectors set up camps to succeed the purpose of the movement. They have also created resistance, re-occupy and refuse to give away the indigenous traditional territories.
Some names can be mentioned as examples of well-known water protectors: Autumn Peltier (Wikwemikong First Nation), Josephine Mandamin, Inuk, Marjorie Flowers, Labrador and Nunatsiavut are famous among them. There is an assumption in Native American and FNIM cultures that women have a strong connection to the moon, water and the cycles of the tide, because they have the ability to become pregnant and give birth. "Water is life and water has the spirit" – This thought is nurtured in Anishinaabe culture and women perform ceremonies to honor water.
Dakota Water Protectors
In North Dakota, people have gathered to oppose the construction of a crude-oil pipeline for months. The Dakota access pipeline construction had begun over Sacred Lakota tribal lands, with plans to cross major US Rivers. They were out there protecting that land because they think that it was everything to them.
Dakota Access Pipeline
Dakota Access Pipeline (DAPL) is an underground oil pipeline in the northern United States. The $3.78 billion project is 1,172-mile-long and constructed by Energy Transfer Partners. The project was operated to run from the Bakken oil fields in western North Dakota to southern Illinois, crossing beneath the Missouri and Mississippi Reeves, as well as under part of Lake Oahe.
Photo: Dakota Access Pipeline Route
The entire plan and construction work started from 2014 – 2017. The work of this pipeline was completed in April, 2017. Commercially, it became operational on June 1, 2017. According to Forbes report, the pipeline was transporting over 500,000 barrels per day after the first year.
The developers were repeatedly arguing that the pipeline can play a role to improve the overall safety to the public. It would be a more reliable and safer method of transport to refineries than a road or rail and also help the US to attain energy independence. The route of the pipeline starts from the northwestern North Dakota Bakken and Three Forks sites. The pipeline travels in a south eastward direction to end and it would be surprising to know that this Dakota pipeline crosses 50 countries in four states.
Dakota Access Pipeline Protest
The U.S. Army Corps of Engineers approved the portion of the Dakota Access pipeline route in July, 2016 which is already mentioned in this article. The location was a half mile from the Standing Rock Sioux tribe's reservation. The Standing Rock Sioux Tribe sued the Army Corps. LaDonna Brave Bull Allard who is a member of Standing Rock Sioux Tribe, said, "First, when they came, it was for the gold and silver. Now it is oil." It is easily understood that an oil spill could pose an existential threat to the tribe by polluting their water supply. It also crosses sacred ground. At that time the water activists asked President Obama to stop that project. Energy Transfer Partners, the company with the largest stake in the Dakota Access Pipeline, sued the Standing Rock Sioux chairman and other tribal members for blocking construction at Cannon Ball, North Dakota.
Photo: #NoDAPL
Members from more than 100 tribes showed up in support. Law enforcement and private army fired tear gas, flash bang and water cannons at crowds of protesters in November, 2016. The Morton County Sheriff arrested nearly 30 protesters. Many people were seriously injured at the time. The governor of North Dakota issued an evacuation order for the protest area citing "Harsh Winter Conditions." But many people stay to support the protest. President Trump signed an executive memorandum for the Army on January 24, 2017 to expedite the review and approval of the pipeline's un-built section.
Protests against the pipeline continued in cities across the country. The government had not sufficiently studied about the pipeline's "effects on the quality of the human environment." So, a United States District Judge ordered the United States Army Corps of Engineers to conduct a new environmental impact review. A district Court also judge issued a ruling for the pipeline to be shut down in July, 2020. But the temporary shutdown was overturned for a US appeal and that environmental review is expected to continue. The tribe has been saying all along, since the beginning that the project needs a full environmental review of the risks of its own. They want their treaty rights respected. One death, three hundred injured and nearly five hundred people are arrested in this protest.
Line 3 Pipeline
Minnesota where a massive fight against the Enbridge Line 3 pipelines was brewing after the U.S army corps of engineers approved a permit for the project. The pipeline construction was set to begin by the end of November, 2020 despite years of resistance and the concerns of indigenous communities. The people of the indigenous community tried to say it would violate tribal sovereignty and contaminate land and water construction. It could also bring thousands of temporary workers to Minnesota even as covid19 cases were spiking in the state.
Photo: Line 3 Pipeline


A lot of people want to know and a lot of people don't know. So think of it this way that there are six really old pipelines. The pipelines are put through in Northern Minnesota shipping diluted tar sands from Alberta, Canada to Superior in Wisconsin. One of those lines is called Line 3. It has about 900 plus structural anomalies in it. Structural anomalies are things like small little pinhole leaks, maybe causing some cracks and some of those end up to be big problems like that Kalamazoo spill which was a structural anomaly. Line 3 is old and corroding and it is already at the end of its life. It had a number of leaks and spills and for those leaks and spills are just a catastrophe waiting to happen.
There is a likelihood that there is a whole bunch of contamination under the present line and may be in future it may drain into a lake or wetland or flood a farm field. Fixing these problems is very expensive. So, Enbridge wants to abandon the pipeline walk away and build a brand new one in a brand new corridor. Enbridge wants to call this a replacement project. They are replacing line 3. But the water activist demands that the plan was not about replacing line three. They are putting in a whole new corridor and doubling the size of the line.
Stop Line 3
Why are water protectors against line three? The place may be different, but the consequences are just as dire. As you read this article, you already know that Line 3 pipeline is carrying dirty oil and it is being built through indigenous land. It would carry oil from toxic tar sands in Canada through Anishinaabe land in the United States. It would devastate human health, indigenous sovereignty and our only planet where we are still alive.
Photo: Stop Line 3 Protest
Tara Houska (Couchiching First Nation), Tribal America attorney said that the Enbridge company wants to send dirty tar sands oil through hundreds of their watersheds to the shore of Lake Superior and to the Great Lakes. The pollution Line 3 would create is staggering 193 million tons of greenhouse gases every year for the next 50 years. That is like putting 38 million more vehicles on roads or building 50 new coal-fired power plants. Line 3 would carry oil made from tar sands which is one of the most environmentally destructive fossils fuels on earth. The pipeline would cross hundreds of streams and pristine wetlands in the heart of the OJIBWE nation.
The pipeline would defy the 1855 treaty which protects their right to hunt fish, and cultivate their sacred food. This pipeline has the possibility to harm wild rice irrevocably. The life of Anishinaabe people will be threatened and violate their treaty rights. Tania Aubid, an indigenous claimed that they already lost 13-15 wild rice lakes which sustain their food supply. The fish habitat, bird habitat and deer habitat will be hampered and the ecosystem will be damaged for the Line 3 project. Water activists are fighting Enbridge and the politicians who have given them a pass. They are also fighting the banks that made these projects possible. They are the same banks behind the pipeline at Standing Rock.
Alton Gas

Mi'kmaq and non-indigenous allies were actively opposing the completion of the Alton gas project near Stewiacke, Nova Scotia. Alton gas proposed to create two salt caverns in which they wanted to store natural gas underground with the expressed intention to build up to 15 more. The creation of these caverns would result in huge quantities of highly concentrated salt brine. The company planned to dump it down the Shubenacadie River. At full operation, Alton gas will be releasing approximately 10 million liter of brine into the Shubenacadie river system each day.
Salt cavern gas storage has a 40% failure rate globally and a 65% failure rate in the U.S and pose a serious threat to groundwater. Alton Gas Storage LP did not show any kind of interest to consult with Mi'kmaq communities and the provincial or federal governments about this project. The dumping of the salty brine has a great risk to devastate the river, and all the life that depends on it. The corporation did not try to understand the connection between the indigenous people's right and the land.
Photo : Alton Gas Plan
During the fall of 2016, Mi'kmaq opponents of the Alton gas project, supported by non-indigenous allies. They set up a truckhouse along the banks of the Shubenacadie river near the Alton gas brine dumping site. The right to have a truck house is explicitly laid out in the 1752, peace and friendship treaty. In Spring 2017, Mi'kmaq land protectors set up a treaty camp along the entrance to the Alton gas work site, effectively blocking the company from working on the project. This camp continued to that date and needed ongoing support and donations.
Honor the Earth
Honor the Earth was founded by Indigo Girls Amy Ray and Emily Saliers and Winona Laduke in 1993. They've been working for about 20 years, and during that time they have re-granted over 2 million dollars to over 200 communities of Native Americans.
Photo: Honor the Earth
Honor the Earth has a mission to create awareness and support for Native Americans and Native Environmental Issues. They use indigenous wisdom, art, music and the media to fulfill their missions. They work to leverage this support and awareness to develop political and financial capital for indigenous struggles for life, land and water.

Water activists are always taking action actively in other events. Muskrat Falls, a hydro dam project in a Labrador incident caught their attention. According to APTN News, three Labrador water protectors in St. John's jailed over Muskrat Falls protest. Trans Mountain Pipeline is a pipeline proposal which is slowly moving ahead in the Pacific Northwest. It could bring more oil and opposition than Dakota Access and Keystone XL. Wet'suwet'en resistance camps are another example of water protector protest. The Wet'suwet'en people take action against construction of Coastal GasLink Pipeline. Unist'ot'en people are also joined with them to help the ongoing resistance.
Indigenous Water Protectors think that there is only one habitable planet in the universe. So, this is what we need to take care of and that is why they are standing for people around the world who need support to protect their rights. These pipelines threaten the future of our planet and the health and safety of everyone in its path.
We are sorry that this post was not useful for you!
Let us improve this post!
Tell us how we can improve this post?
Add to favorites