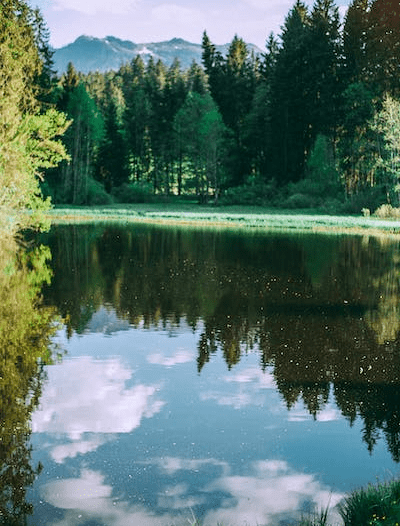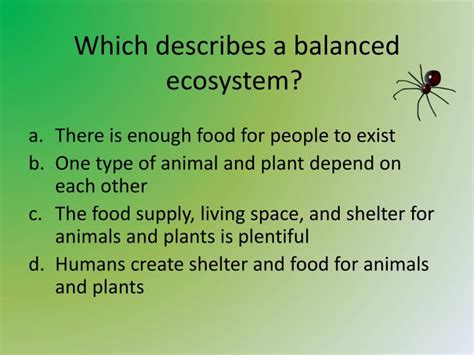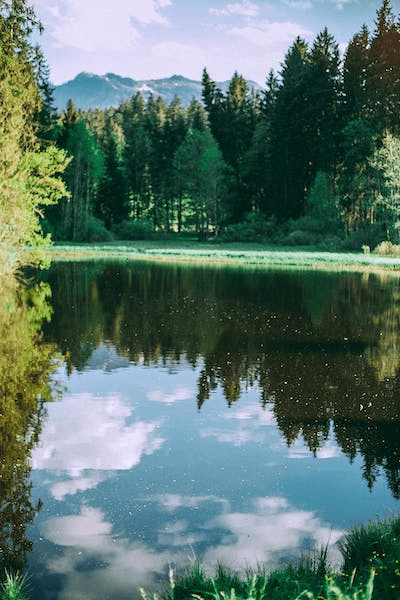 Table of Contents
What is an Ecosystem?
Types of Ecosystem

Terrestrial environment
Freshwater environment
Oceanic marine environment
Desert Ecosystem

How does the Ecosystem work?

Biotic
Abiotic
Structural and Functional aspect of Ecology

Important Ecological Concepts

Food Chain
Ecological Pyramid

Importance of Balanced Ecosystem
Impact of Human Activities on the Ecosystem
Why do we need a balanced ecosystem?
Or, why ecosystem is important? – A question that should come to our mind naturally. Is it really important? Before answering this question, It is very essential for us to know some important topics about the Ecosystem. There is a vast network of ecosystems all over the world. From a small reservoir to a vast desert or a huge snow-capped mountain, you find the process of ecosystems.
A habitat in which animals, plants and micro-organisms interact with nonliving factors such as landscapes and temperature. Maintaining the flow of materials and energy, a balanced ecosystem is essential. Living organisms may use waste materials. Chemical waste is highly dangerous for nature and her ecosystem.
What is Ecosystem?
The ecosystem is a community system where living organisms in conjunction with the nonliving and all other living components of that environment. Biotic and abiotic factors are linked in the ecosystem.

Types of Ecosystem
We are going to discuss four broad categories to know the details about ecology.
Terrestrial environment
Freshwater environment
Oceanic marine environment
Desert Ecosystem
Terrestrial Environment
This environment consists of biomes and based on specific land areas. There is no need for much water for survival than in a marine ecosystem. For respiratory function, animals are dependent on oxygen and plants are dependent on carbon dioxide. Both are important gases found in fresh air.
Further, the terrestrial environment is the main source of many items to human survival, such as materials for shelter and food and medicine ingredients, etc. For example, several kinds of forests, savannas, deserts, or grasslands.
Freshwater Environment
Are found in rivers, springs, streams, ponds and freshwater swamps. Running-water and standing-water habitats are measured as subdivisions. Standing Water habitats are lakes, ponds and reservoirs. Running water habitats are streams, creeks and rivers. This ecosystem is home to more than just fish. There is plankton, algae, insects, amphibians and underwater plants. Oceanic marine environment has saltwater as the main character. Divided broadly into the shallow waters of the continental shelf composing the necrotic zone. The deeper waters of the ocean are known as the oceanic region.
Desert ecosystem – Deserts are arid regions. Generally associated with warm temperatures. Desert means not only hot but also many cold deserts exist in this world. Largest desert ecosystem are located in Antarctica, the Middle East and Northern Africa.
Modern ecology is divided into two subdivisions:
• Ecosystem ecology
• Population ecology
In Ecosystem ecology, It views ecosystems as large units and tries to explain the behavior of the ecosystem from the properties of individual units in population ecology.
In practice, scientists merge both of two approaches. Descriptive ecology is important to describe the nature and types of organisms and their environment. Emphasizing structures of ecosystems and communities and dispersion's and structures of populations is also possible for it. If you want to know how things work in an ecosystem, including how populations respond to environmental alteration, Functional ecology is for you. Functional ecology also describes how matter and energy move through ecosystems.
Modern ecosystems are divided into artificial and natural.
It is easy to say the components which exist in nature belong to natural ecosystems. They are further classified into terrestrial and aquatic. We already mention that terrestrial includes grassland, topical, hot desert and temperate rain forest and ponds, river, streams, oceans, etc. included in aquatic. Artificial ecosystems are handmade and subjected to human manipulation and intervention. Such as – crop fields, agricultural land, or a cleaning part of the forest or grassland.
How does a balanced Ecosystem work?
Ecosystem functions include several biochemical cycles. These cycles are related to energy transfer mechanisms. Abiotic and Biotic components are the features of Mother Nature and these components play a very important role in ecosystem functions. If you don't know about biotic and abiotic features, here's a short description for you: '
Biotic Features: This feature is a component or factor of living organisms in nature. This includes both animals that consume other organisms within their ecosystem and the organism that is being consumed. Producers, Consumers and Decomposers – Scientists sorted into three main categories.
Abiotic Features are non-living chemical and environmental physical parts. It affects living organisms and the functioning of ecosystems. Depending on the abiotic feature, different animal habitats are formed.

Plants, carnivores and herbivores are considered food chain components. They are all creating a joint together "web of life" on which humans and other species depend. The main power source of any ecosystem comes from the Sun.
Structural and Functional aspect of a balanced Ecosystem:
Structural Aspects:
There are some aspects of an ecosystem using some ingredients or components.
1) Organic Compounds – Carbohydrates, Lipids and Protein. They easily link abiotic to biotic aspects.
2) Producers – Plants.
3) Micro Consumers – Absorbers (Fungi), Saprotrophs.
4) Macro Consumers – Phagotrophs – Large Animals.
5) Inorganic Aspects – Carbon (C ), Nitrogen(N), Carbon Dioxide(CO2), Water ( H2O )
6) Climatic Regimes – Moisture, Light, Topography and Temperature.
Functional Aspects:
1) Evolution
2) Diversity – Inter Linkages between Organisms.
3) Food chains
4) Nutrient cycles – Biogeochemical cycles.
5) Energy cycles.
Important Ecological Concepts
Food Chain
A series of organisms in which each organism feeds on the one below it in the series is called a food chain in an ecosystem.
The secondary consumer eats the primary consumer and the tertiary consumer eats the secondary consumer and so on. In this process, energy gets transferred from the low consumer to the next higher level of consumer. A series of organisms is followed here and it is recognized as a food chain.
Look at a forest ecosystem. Grass, is eaten by the deer. Tigers in the forest, eat the deer. The grass, deer and tiger together form a food chain. Here, energy flows from the producer (grass) to the primary consumer (deer) to the secondary consumer (tiger).
In a freshwater ecosystem like a small pond. Algae, small animals, insects, small & big fish and a fish-eating animal or bird are the components of the freshwater ecosystem. Always keep that in mind, the food chain begins with producers. Plant eaters (Herbivores) come next in the chain. Fleas eaters (carnivores) consume them. There is no saying that the food chain ends in three steps, It may extend to the fourth, fifth, or even more order of consumers. So, It can go a long way.
Here, we show some common food chains :
1. Plants > Deer > Lion.
2. Plants > Worm – Bird > Cat.
3. Plants > Grasshopper > Frog > Snake > Hawk.
4. Algae > Small Animal > Small Fish > Big Fish > Bird.
Ecological Pyramid
Ecological Pyramid – a graphical representation of the energy pyramid or food pyramid. It shows the bio productivity at each trophic level.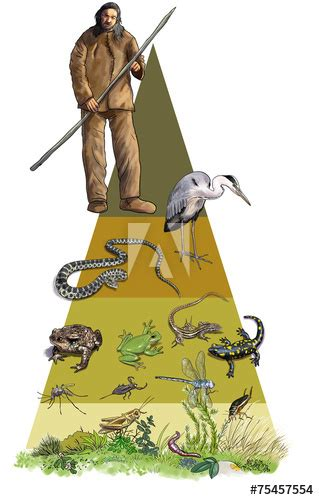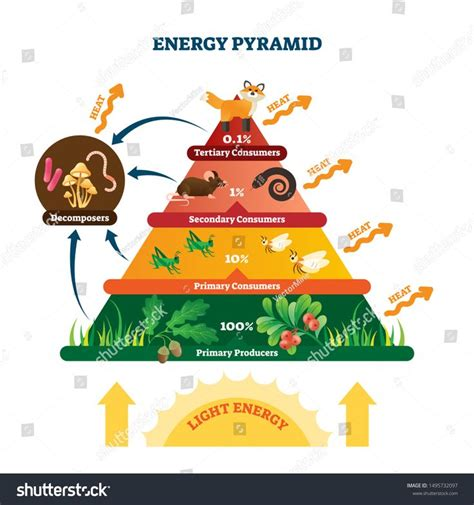 Pyramid of Energy
Represents, how much energy is retained or stored. This biomass at each trophic level is an ecosystem. Typically, about 10% of the energy is transferred from one trophic level to the next. This prevents a large number of trophic levels. Energy pyramids are necessarily upright in healthy ecosystems, that is, there must always be more energy available at a given level of the pyramid to support the energy and biomass requirement of the next trophic level."
Source: https://en.wikipedia.org/wiki/Ecological_pyramid
This pyramid starts with produces (such as plants) on the bottom and proceeds from level to level. The top of the food chain is the highest level of the pyramid.
Importance of Balanced Ecosystem
Ecological balance or Balanced ecosystem – We are now explaining here the most important part of this ecosystem. It is a possible term to describe the equilibrium between living organisms such as plants, animals and human beings as well as their environment. A healthy and desirable ecological balance is possible in harmonious relationships.
Environment balance is important also in a balanced ecosystem. Human beings considered the best creatures of creation. Can play a key role to maintain ecological or environmental balance. If we can show an ecological system has sufficient food for all living organisms and their stability, It clearly reflects the existence of ecological balance. Therefore, The ecological balance is important and essential because it ensures the existence, survival and stability of the environment.
Survival of all organisms
Any kind of organism actually depends on balancing the ecosystem. Various species can vanish if they don't find their exact environment or ecosystems. They need enough food to keep them alive. Most species are not overused or exploited. We need all of them.
Human development activities or other activities like farming and resource exploitation are now one of the main causes of excessive deforestation. Destruction of forests leads to drought. Drought reduces food production and Insufficient food is its result. Insufficient food leads to starvation and we know, What can happen in the next part! Death occurs for reducing the existence of some species.
In summary, a balanced ecosystem brings the existence of the world for any living organisms. Mother Earth's inhabitants such as human beings, animals, plants and other macro and micro-living organisms continue to survive. A favorable ecosystem produces sufficient food for all species. Also, we can maintain a green environment which is very important in today's global warming world. The world achieves the equilibrium state that protects and benefits all living organisms in it.
Impact of Human Activities on Ecosystem
Humans, like other living organisms on earth, have to rely on this system. A balanced ecosystem is vital for a healthy life. But, unfortunately, most of the development activities are now creating a negative impact on the balance in the ecosystem.
Deforestation, land conversion and over fishing all impact the ecosystem. The quality of our environment is degrading day by day and It also causes a disruption in the balance in an ecosystem.
However, people realize the danger of the ruined ecosystem. World leaders are trying to discuss together how to improve better in development without damaging our ecosystem. The mother earth already lost a lot of important species. Bio fuels, reforestation, plastic ban, prevention of burning fossil fuel and more can save our days. We must help to adopt practices and our government and social activities in maintaining the balance of the earth's ecosystem rather than degrading it. Earth is the only planet still now where human beings are wandering.
Read More:
We are sorry that this post was not useful for you!
Let us improve this post!
Tell us how we can improve this post?
Add to favorites