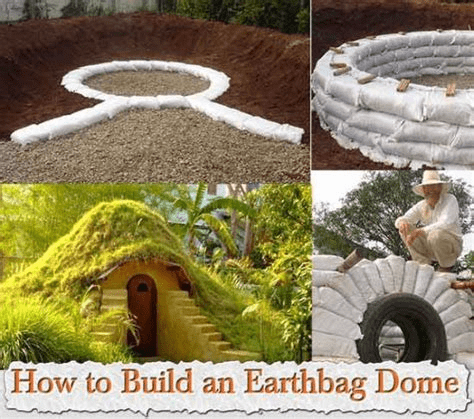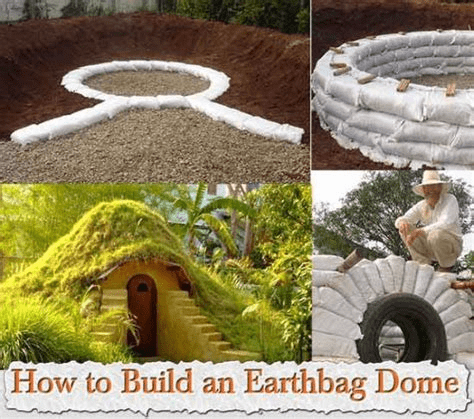 Posted on by Owen Geiger
Ride out the storm! Save thousands of dollars by building your own earthbag dome tornado shelter. (See link below for free plans.)
Designing an earthbag tornado shelter has been on my to-do list for years. My intent was to modify my free plans at Instructables.com (see below). Yesterday I came across the following article at Yahoo and found out concrete tornado shelters are costing thousands of dollars. So I decided to write this blog post to summarize how to make your own storm shelter out of earthbags (sandbags), local soil, gravel, barbed wire, and plaster. The dome shown above cost about $300 a few years ago. A smaller dome used only for emergencies could probably be built for half that cost if you eliminate the buttresses, the living roof (earth and plants on top) and are clever in making a door out of salvaged materials.
From Yahoo:
"Safe rooms feature thick steel walls and doors that can withstand winds up to 250 mph. They are typically windowless, with no light fixtures and no electricity — just a small, reinforced place to ride out the storm. Costs generally range from $3,500 to $6,000.
Sizes vary, but most hold only a few people. They can be bolted to the floor of a garage or custom-fitted to squeeze into a small space, even a closet. Some are so small occupants have to crawl inside. A few are buried in the yard like the old storm shelters of the late 1800s and early 1900s.
Before the twister devastated Joplin, the Neosho, Mo., safe room manufacturer called Twister Safe had four employees. Now it has 20.
"Business has probably quadrupled, at least," owner Enos Davis said. "We're selling 400 to 500 a year now, compared to maybe 100 before."
Missouri's choice spotlights a debate in states seeking better tornado protection: Is disaster aid better spent on safe rooms in individual homes or on larger public shelters designed to protect hundreds or thousands of people?
The downside of public shelters is getting there. Even with improvements in twister prediction, venturing out into a rapidly brewing storm is perilous.
"I wouldn't get my family into a car and run that risk," Joplin Assistant City Manager Sam Anselm said. "If you have the opportunity to put something in your house, that's what we would encourage folks to do.""
Source: Yahoo
Build your own tornado shelter with free earthbag dome plans at Instructables.com — How to Build an Earthbag Dome. This earthbag dome Instructable will be featured in an upcoming book due out this fall along with other 'best of" Instructables. You can read the original article in its entirety at Mother Earth News Magazine. The dome is 8' in diameter and makes a great tool shed. You might want to build a smaller version for use as a tornado shelter. It's easy to adjust the dome size by shortening or lengthening the string-lines used to create the radiuses.
Suggestions for reducing cost and labor: build no larger than needed (5'-6' diameter might suffice for a storm shelter); build a sturdy steel door (an opening about 2'x3' or 30" diameter would suffice); plaster the dome instead of using earth on top; eliminate the buttresses (not needed if the dome is tiny and there's no living roof). Questions? Leave a comment below and I'll be happy to respond.
Disclaimer: Podcasts are voluntarily shown on a limited time only for determining its award winning value. Voice broadcasting objections by mail to Wisdomvision LLC Box 3707 Stateline, NV 89449-3707
We are sorry that this post was not useful for you!
Let us improve this post!
Tell us how we can improve this post?
Add to favorites