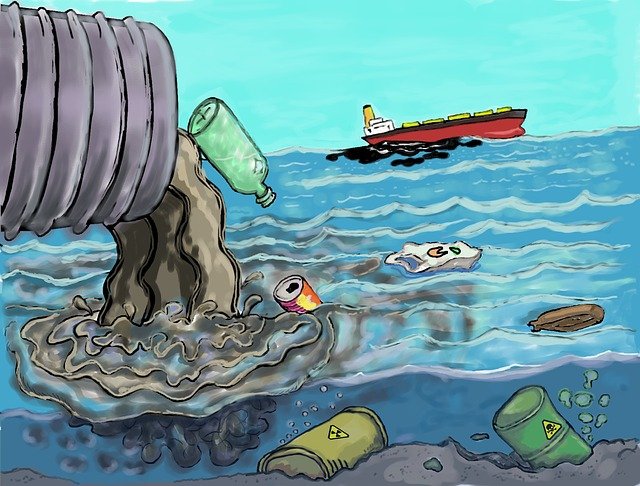 How pollution is standing against our existence:
More than 10 percent of the world's population is children and millions of children die every year just because of different types of natural pollution. The under-five age mortality rate is the highest. How safe is our future generation actually? Nature is responding to our behavior towards her. What are we doing to prevent pollution?
Let's see some realities about pollution. The Mississippi River alone carries about a few million nitrogen pollutants each year and making the date zone. Around half of America's inland water is too contaminated for aquatic life, swimming or fishing. Not only inland water but also seawater is being polluted due to the constant dumping of huge amounts of garbage from ships and cruise liners. Not only is seawater being polluted, but marine animals and mammals are being killed constantly because of pollution.
Prevent pollution because more than 100 million people are affected by pollution each year which is not to be underestimated in any way. The kind of big changes that are taking place in the ecosystem due to different types of pollution is raising questions about our existence in the future. The average life expectancy of people is declining due to pollution for example People living in polluted air are 20 percent more likely to die from cancer than people living in healthy air.
The big companies are constantly polluting the environment in various ways but we can't do anything. Imagine a scenario where a multi-billion dollar company is constantly polluting the environment. But due to the weakness of the authorities and the unawareness of the people, these companies are not going to be brought under the law. They are somehow getting out of the law. No little law firm can stand against their power where big firms are working for them. This is one of the main reasons for not preventing pollution properly. It has become essential to increase the awareness of the people to deal with all this. Let's take a look at how pollution occurs, what kind of reactions can occur as a result of pollution and various other issues.
Types of Pollution
People are calling for their own destruction day by day. If not, why is the navel-breathing of man-made civilization being heard today? The tolerant world seems to have lost its tolerance today. Today, pollution is the biggest problem among thousands of problems in the world. There is no shortage of pollution in the world but some of them are highly dangerous for human existence. Below is a brief description of these significant pollution.
Types of pollution:
Air pollution
Water pollution
Soil Pollution
Sound Pollution
Plastic Pollution
Air Pollution:
The natural environment is endangered today and at the root of it is air pollution. This catastrophe is due to the fact that the earth is highly industrialized. The gas emitted from factories is mixing with the air and polluting the air. People need fresh air to survive but this air is getting polluted with a mixture of harmful substances. The amount of oxygen in the air is decreasing and at the same time other harmful substances are mixing with the air like carbon dioxide.
Water Pollution:
Many major diseases in the world are caused by water pollution. Water is one of the main blessings given by the Creator. We don't even know how much water is being polluted under the guise of civilization. Contamination of the water with any toxic substance or contaminated waste makes it unusable for human consumption. Dysentery, Arsenicosis, Polio, Trachoma, Typhoid fever, Schistosomiasis, Diarrhea and Cholera are the main diseases caused by water pollution.
Soil pollution:
Soil contamination can occur in various ways but two of them are highly noticeable. Throwing chemical wastes into the soil pollutes the soil and polluting the soil even if harmful chemicals are released due to underground cracks. Crop production is declining due to loss of land fertility and the world is in economic turmoil.
Sound pollution:
Sound pollution is our daily companion. Unnecessary and annoying noises coming from different sources are constantly coming to our ears. Noise pollution is causing people's creativity and attention to decline day by day. It is extremely harmful to health and hearing at the same time.
Light pollution:
Currently the range of artificial light has increased by almost 2 percent. This excessive light intensity is causing light pollution. As a result, it is having a detrimental effect on the living world. At present most people suffer from eye diseases. Thus, if the number of artificial lights continues to increase day by day, it will become unimaginable to see without glasses for a while. Ultraviolet rays have become our daily companion
Plastic pollution:
Since plastics are not perishable, most of the plastic products that are discarded after use survive in the same environment for ages. Ordinary plastic bags used to carry goods take at least 20 years to blend in with nature. If you don't do the plastic alternative now, it will not be possible to solve it later and there will be no solution.
Causes of pollution
Man's ruthless ax-wielding on various elements of the environment is particularly responsible for pollution. A polluted environment poisons the essential innocent equations of human life. Our negligence towards environment has become our biggest enemy. Let's talk about how we are polluting the environment and its various components and poisoning the life of the nature.
Causes of air pollution:
The world today is a few steps ahead with the touch of modernity. Whenever there is talk of modernity, there is talk of the industry and when it comes to it, the smoke from factories and industries rises in front of us. Who knew modernity would bring us so far. Smoke from fossil fuels is polluting the air to a great extent. The problem is not just in America but in the world as a whole. Lots of harmful gases are being released into the air. We all know that CFCs, or chlorofluorocarbons, are the cause of major natural pollution. The lack of adequate oxygen in the air is increasing day by day. To prevent pollution it has to be stopped first.
Causes of water pollution:
Water is polluted in many ways. They are: Harmful waste products in factories contaminate water. Dirty waste mixes with water and contaminates the water. Pesticides and chemical fertilizers used on agricultural land contaminate rainwater. Contamination caused by bacterial infections destroys the normal quality of water. Oils from different regions contaminate the water. Waste from ships and water used by humans contaminates the water also. If the pollution continues like this, it will be difficult to get pure water in a few days.
Causes of Land pollution:
Leaving plastics and glass here and there pollutes the land.
Fuel explosion of the tank stored in the underground pollutes the land.
Application of herbicides, pesticides and fertilizers.
Mineral extraction
Coal and brick kiln ashes.
Heaps of rubbish on the ground.
Direct disposal of industrial waste to the land.
Excessive destruction of forests.
Petroleum hydrogen carbon compounds and pesticides lead and other heavy substances pollute the soil.
Pollution Effects: Three Major Pollution
Effect of air pollution:
I once had an acquaintance with a pregnant woman. She was like my friend because of which I had to come and go to her house. One day I suddenly got the news that she had given birth to a stillborn baby. I was in a lot of trouble but I didn't understand the reason then. Then one day I found out that living in a contaminated area increases the chances of stillbirth and miscarriage. Yes, we are talking about the most dangerous pollution in the world which is air pollution. Nowadays most people are suffering from eye diseases and respiratory diseases, at the root of which is air pollution.
According to Berkeley Lab reports, the chemical mixture causes eye, nose or throat infections when exposed to contaminated air. Complications in the lungs, Bronchitis, Pneumonia, Headaches and various problems can occur as a result of air pollution. Nowadays we often see allergy problems which are mainly due to air pollution. An estimated 6 million people worldwide die each year due to air pollution. Air pollution depletes the ozone layer in the atmosphere and has an impact on the climate. We have to try to prevent pollution like this one from today.
Effect of water pollution:
Water pollution can be said to be a long-running poisoning to human life. The Water Pollution Guide, which works to reduce water pollution levels, says the long-term effects of water pollution are far greater than the short-term effects. We all know that water is another name for life but in fact pure water is another name for life. Consumption of contaminated water results in many physical reactions in our body. The use of these waters causes skin diseases, typhoid, jaundice or hepatitis. According to scientists, the pollution also spreads inside fish that grow in contaminated water. These harmful substances enter the human body through the food cycle and can cause cancer. At first no one will realize that he is a victim of contaminated water because it effects in long-term rather than short-term.
Effects of sound pollution:
People have to go out to meet their needs. A healthy man left home for work but came back with a headache, why? Let's see what National Association of Noise Control has to say about this: Hypertension, ulcers, heart disease, headaches or nerve problems can be caused by street-noise alone. Moreover, the presence of extra noise in the environment can lead to birth defects. Noise pollution can cause blood pressure, breathing problems and even digestive problems. In addition to this, inattention to work, irritable mood and irritability are the result of noise pollution. In addition, in areas where noise pollution is high, people are experiencing irritable moods, abnormal behaviors, and emotional turmoil. Older people's memory is declining and frustration is growing among people. Above all, noise pollution will play a vital role in shaping a frustrated nation.
Solutions to pollution or prevent pollution
Things to do to prevent soil pollution:
Dumping of garbage in certain places and making waste tolerant to soil in a scientific way can prevent soil pollution effectively.
Natural fertilizers should be used in the land and chemical fertilizers should be kept as far away as possible.
Polythene cannot be used Bags made of jute can be used instead of polythene.
Use of new items should be reduced and reuse should be increased.
Forests cannot be destroyed and more and more trees need to be planted.
We need to reduce the use of chemicals in our daily work because sometimes less is more.
To protect not only soil pollution but also natural pollution, we must first protect the ecosystem. Because in nature one element is automatically associated with another so damage to any one component will have an impact on the whole ecosystem.
Public awareness needs to be raised to prevent all nations from engaging in activities that harm the environment.
The use of plastic products should be brought to zero.
Things to do to prevent water pollution:
Under the pressure of urbanization, industrialization and growing population, and uncontrolled wastage of water, limited reserves of pollution-free water are rapidly flowing. In this situation, proper use of water and reduction of its pollution is very important.
Ways to reduce water pollution:
Factory waste should not be dumped into the water and arrangements should be made to prevent it from entering the water.
The use of pesticides in agriculture should be brought down to a minimum.
Arrangements have to be made so that the sewage water cannot enter the river water without any purification.
Strict action should be taken against polluters by enforcing water pollution laws.
Contaminated water needs to be treated in a technical way.
The use of alkaline detergents should be reduced and mild alkalis should be provided.
Do not dispose of chemical waste water in the kitchen drain.
Dirt lying on the beach and garbage floating in the river should be cleaned.
Ways to reduce air pollution:
Air pollution is a silent killer. Every day thousands of people suffer due to the wind mixed with dust which makes normal life unbearable.
The most harmful aspect of air pollution is the depletion of oxygen so we have to plant more and more trees.
Eco-friendly brick kiln vehicles and industrial factories have to be made for reducing the air pollution.
The use of fuels that can spread harmful substances in the air should be stopped and prohibited.
The air emitted from large chemical factories must be eco-friendly.
Regular sprinkling of water on the road should be done to stop dust accumulation.
Animal carcasses and garbage should be buried in the ground.
Fireworks cannot be used.
The government and the people have to work together to prevent pollution.
Climate crisis has become a very important issue for the present time. We need to work together now to present a beautiful and pollution free world to future generations. In this case, not only if we are aware of ourselves, we have to make aware of those around us.
We are sorry that this post was not useful for you!
Let us improve this post!
Tell us how we can improve this post?
Add to favorites