Coronavirus, QinetiQ and the Rothschild Bombshell:
It makes sense; those with the most to gain would have something to do with it. How has the wealthiest done, since the discovery? Some were at the ready with vaccines and some weren't. Some got some and some didn't. Who profits from these Pharmaceutical Companies? Same as the banks and weapon manufacturers. Those that wheel power. If anyone could pull it off, its the wealthiest pair in the world.
Coronavirus Traced to Rothschild & British Crown – Stunning Video Interview With Michael McKibben
The Queen's company the Pirbright Institute holds U.S. Patent No. 10,130,701 on CORONAVIRUS. Pirbright tracks back to SERCO Group Plc and QinetiQ Group Plc, which both have contracts with the U.S. Patent Office. Outrageously, SERCO essentially runs the U.S. Patent Office (under the Commerce Department) patent application process! This "inequitable conduct" in patent legal terms is fraud and invalidates the claim while the world fights this British-American Pilgrims Society-inspired emerging pandemic, in our opinion. See THE PIRBRIGHT INSTITUTE, Co. No. 00559784. (Jan. 07, 1956). Certificate of Incorporation and related records. Companies House (UK).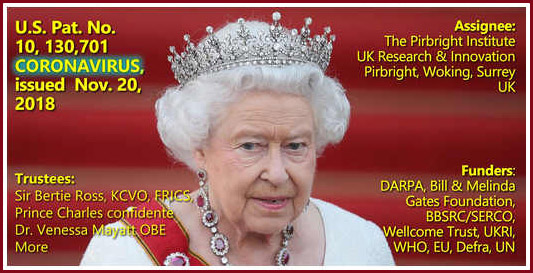 Queen Elizabeth II is the long-time Patron of the British-American Pilgrims Society (1902-present). Sir Henry Solomon Wellcome pharma-propagandist-spy was a Pilgrims secret founding member along with Winston Churchill, propagandist John Buchan & the Daily Telegraph and Daily Mail's Lords Burnham and Northcliffe. See The Pilgrims Society of Great Britain, United States, Profile Books, London (2002,2003) (Jan. 2002, p.1: "As Patron of the Pilgrims it has given me great pleasure to support the unique contribution which the Society has made to Anglo-American relations over the years." (Source)
CORONAVIRUS UNCOVERS ROTHSCHILD LORD PIRBRIGHT AS KEY TO THE 140-YR. PILGRIMS SOCIETY MONOPOLY OVER WORLD CULTURE, COMMERCE & WAR
The British Crown and the C.I.A. teamed up treasonously via QinetiQ Group Plc controlled by the Monarch
Lord Pirbright (Rothschild) and his banker cousins at N.M. Rothschild & Co. were godfathers of the 2nd Boer War concentration camps (1899-1902) to drive the French, Dutch and Germans out of South Africa
New Evidence: Leading London Jews were running the first modern war concentration camps where over 60,000 whites and blacks died, including more than 14,000 mostly white children who were subjected to Burroughs Wellcome & Co. (now Wellcome Trust–Coronavirus funder and GlaxoSmithKline) vaccine experiments.
These Privy Council and Parliamentary records have been discovered after much difficulty and missing documents. (Source)
********************** Sources ***********************
Reference:
https://justrichest.com/rothschild-family-net-worth/
********************** End ***********************
Disclaimer: Podcasts are voluntarily shown on a limited time only for determining its award winning value. Voice broadcasting objections by mail to Wisdomvision LLC Box 3707 Stateline, NV 89449-3707.
We are sorry that this post was not useful for you!
Let us improve this post!
Tell us how we can improve this post?
Add to favorites