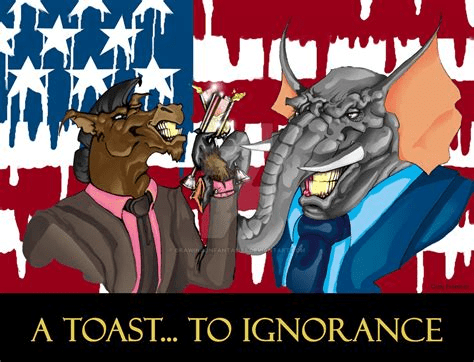 Twittle dee vs. Twittle dumb, such choices we need a cure from! Bernie Sanders losses hope under pressure from colleges and the DNC South Carolina tricky black box voting scheme . When the DNC turns against you your votes are in their hands so instead, we wind up with a Joe like Obama or Jobama. Someone to cover for Obama legacy. Those Demoncrats are just like Republicrats in a duopoly preying on society. That is their idea of a two party system. Where's, the fairness?
Mail – in – voting was the only civilized way around the pandemic, yet they could have saved lives an slowed the spread in Wisconsin and elected Bernie Sanders. Voters were made to stand in lines and forced to be vulnerable to Covid. Then, the DNC in New York, took him from the ballot, all in a conspiracy to deny him the nomination.
So, instead they did what greedy ghouls do in a most greedy ghoulish way! The trouble with that it diminishes our democracy. Two parties hellbent on serving the ever more privileged with more grants , tax breaks and subsidies. Socialism for them and brutal capitalism for the rest of us!
When they talk about how divided this duopoly is. I contend these RepublicRats have figured it out and are in cahoots with one another. How to work three days a week with endless perks given to themselves. Look at how at odds they are when it comes to passing the military industrial complex or the farm bills. They are at the ready and many times will wind up throwing more money at it then was ask for.
These two parties have very much more in common then they have differences. How often do they go after the public interests? The public observe these two parties the RepublicRats as very narrowly minded parties. First they take one step forward then three steps backward and Demoncrats sit back locked lipped and show no interest even in their own causes. Did they stand up when it was time to nominate a Supreme Court Justice. The Democrats are always the fall guy the one who graciously take the blame for their do nothing policies and both parties are obstructionist.
Republicrats mode of joint operation is planned and prefabricated. They figured a way to maligned the population and stay in power. The sooner the public realizes these simple truths, these two parties are leading us a stray. The sooner we'll make progress as a nation. No two parties could get so little done without a lot of cooperation.
We are sorry that this post was not useful for you!
Let us improve this post!
Tell us how we can improve this post?
Add to favorites